Meet one of our Fashion Intern SHUBHANGI – an "Antiquarian"
We asked Shubhangi questions related to her life and life at Kohli. Look at her interesting replies:
What do you like to do in your leisure time?
~ Free time, yeahhh, favourite time!!! So, Art has always been my favourite hobby, and that's why I decided to carry my passion for art and design-forward as my career. Apart from that I love to read books, mostly fiction. Also, it may look boring and pointless, but I love collecting coins, she says.
If not into a fashion field, you would be into which another field?
~ Umm that's very easy for me, so I would like to be an Archaeologist if not into this field, as I'm fond of history. I know this current generation of us isn't into these history stuffs, but yeah I'm different. *winks*
Where do you see yourself in the future?
~ Is this an placement interview? *laughs* Ok so, I see myself as a fashion or graphic designer, anything. But being a designer is confirmed.
A fashion designer or a brand you follow?
~ Stella McCartney, she is an English fashion designer. I love her brand and designing, which is so unique.
Any Bollywood fashion designer you love to work with?
~ I'm already excited just thinking about this question, haha. Anamika Khanna, I just love her work. I really need to work hard to achieve this.
As you said, you love reading books, which is the last book you read?
~ Shiva Trilogy, by Amish Tripathi. It's the Combo of The Immortals of Meluha, The Secret of Nagas and The Oath of the Vayuputras The Immortals of Meluha 1900 BC. In what modern Indians mistakenly call the Indus Valley Civilisation. These kinds of things interest me a lot!
Favourite cuisine?
~ Honestly, I don't care what I eat as long as it is Indian food. *smiles* And Dosa is my favourite, i can eat anytime!!
Favourite genre of movie?
~ That has to be Psychological-thriller movies. I love watching detective-crime movies like Sherlock Holmes. They are just so gripping, my god!!
Social Media Platform you are most active on?
~ Haha, half of the day is spent over these platforms. Instagram, Facebook, and Quora.
Something you have achieved and proud of?
~ There isn't something like that as of now, but i am learning things to achieve them in the near future. But I can say I'm proud of myself as I made myself into NIFT, the college I wanted to be in. I cleared the exam in the second attempt so ya, I can say I have achieved this in life. Little achievements do matters.
If you get a chance to invite two guests for dinner, one a celebrity and one anyone from Kohli Company, whom you will invite?
~ Oh my goodness what a question!!! Umm celebrity I would say, Greyson Chance, he is my favourite singer, song-writer and musician, I would probably faint if i meet him someday. *laughs* And from the Kohli, I would be pleased to invite Sahil sir.
So, last but not the least, how is your experience working at Kohli Company, and what thing you like most here?
~ It has been an amazing experience, the thing which I like most is that there is no work pressure, I easily manage my college and internship work assigned to me. There are no fixed deadlines, we can make our own deadlines and can work accordingly. I'm also learning new things. So, overall it has been a quite good experience for me.
Anything else about yourself?
~ I could say I am a very random person, I don't make a lot of plans but rather let myself go with the flow.
Interviewed by Aarushi Grover
Have a Glimpse at Shubhangi's Enthralling Artwork!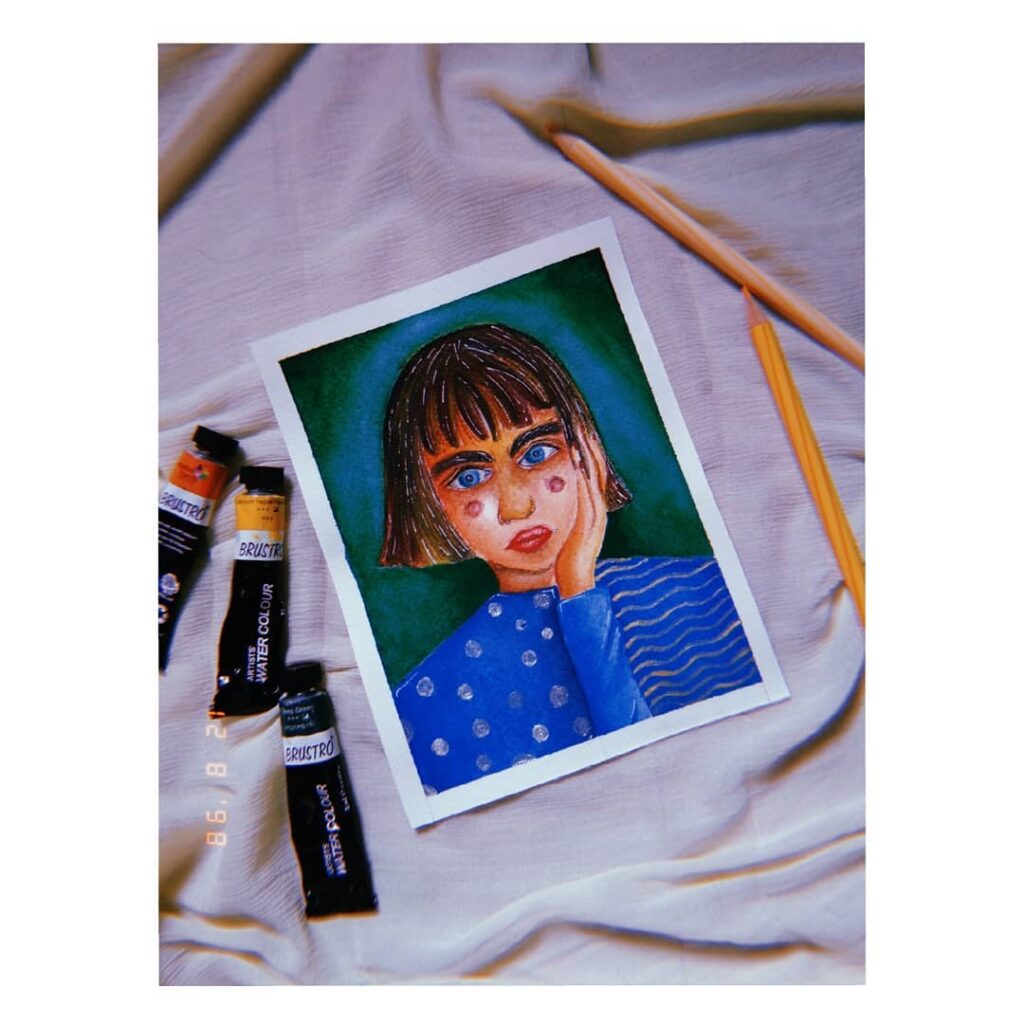 Instagram Feed @_colour_palette